It's Friday and we all know what that means - Taco Belle will be blacked out by 10pm. But before the weekend begins, let her regale you with another review of a band that she has sexual fantasies about. This week's band... Gogol Bordello.
First of all, does anyone ever wonder about Ukranians? What's their deal? I mean, sure, they were anally raped big time in WWII by both the Germans and the Russians, but what about since then? Do they have running water over there? Does every family own a circus bear? What's up with the sicle and the hammer? Do they do the tushy pushy with goats? ...Who knows! Admittedly, I am an ignorant American and know nothing about most countries (aside from the slandering jokes, of course). What I DO know about such foreign and magical lands as the Ukraine, Russia, Japan and even France I've learned from music.
Enter Gogol Bordello, a raucous troupe of Ukranian and Russian musicians residing right here in New York. Their sound is quite possibly the most exciting I've heard since the Rapture's "Out Of The Races And Onto The Tracks" EP. Forget the 80s New Wave revival crap (ahem, Interpol/Bloc Party/Stellastarr*), Gogol Bordello provides the goods - an intense combination of traditional Gypsy tunes and politically charged punk rock. Led by none other than Eugene "I'd Go For A Ride On That Mustache" Hutz, this band reminds their audience what it feels like to be living and breathing in a pulsating city.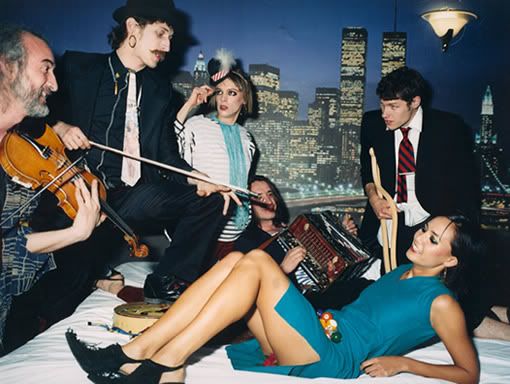 The original members first met in Vermont where they were hired to play at a Russian Wedding where "of course, everyone wants to hear the fucking Gypsy shit," says Hutz. Thus began what is now a regular institution in Lower Manhattan. Catch Hutz and the gang (when they're not on tour) every Thursday at the Bulgarian Bar on Broadway and Canal. I must admit, the idea of taking vodka shots and dancing to "Gypsy fuck songs" sounds delightful. Urbana and Taco Belle are making it our business to become regulars at this lil' shindig described as "the bible of transglobal debauchery." Plus the idea of a drunk make out session with the Hutz is quite divine.
Check them out: http://www.gogolbordello.com/home/