We're all wondering, where can I find some great fashions to express my love-of-country? Fear no more, your answers are here! A variety of styles will help you decide which look you'll be going for this year while watching Fireworks! (man, i love fireworks) I will be wearing a flag hat I found down in South Carolina at the incredible "South of the Border" oasis. This is the year to show everyone the pride inside!
For a business casual 4th...
Show the team at the office who loves the U.S.A. the most. Buy it at
Oysterbaycasuals.com
for a sexy 4th...
Do an on-purpose bad body paint job so boys can see your nipples through the tempera. You'll be sure to raise your self esteem a few points.
For the all out Patriotic gal...
Your husband and brother are both in Iraq. Tell them who is the best with this jem of an outfit. the skirt and top are separate so you could probably pair them with jeans or a T for your day-to-day look. Buy it
Here!
For a Vietnam Protest style...
Check out your dad's closet or your local Salvation Army. Get dressed while listening to that Jimi Hendrix album you have hidden in your closet. (we all had the Jimi phase, you know you own it)
For a NJ style...
If you love America but don't really like whats doing on politically, try this.
For the balls-to-the-wall Patriot...
Tell the evil-doers to "Eat My Shorts!"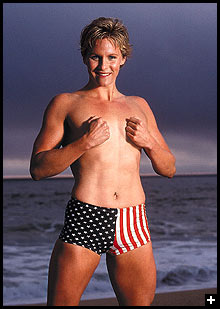 If your kid is named Maddox...
Order online now!
Patriot-mall.com
If your dog is feeling extra patriotic...
Buy it here,
Smalldogclothing.com
I hope your outfit is as cool as mine. Good luck shoppers!
Go Red white and blue.