When thinking about fido this holiday season, consider these fine options for dressing your bff.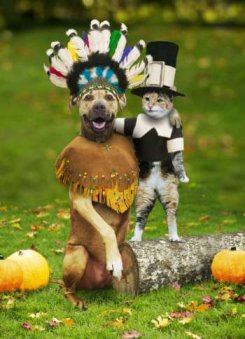 Your pet will love celebrating the dinner of the new world in this cute Plymouth Plantation outfit.
Oui Oui, Has your little friend gotten a little snooty recently? Show him who's boss with this Brie cheese and bordeax inspired number.
Nothing says "I'm still a virgin" like dressing your pet up as star wars characters. Let people know what you need!
Isn't your pet funny?! So funny. I agree.
Pup been reading too much? Is it raining? nothing is better than dogs with raingear on. its very natural!
This is the rocker dog look. Dress your pet in the outfit that shows everyone that "every rose does have its thorn." Bandana included.
I hope you are feeling inspired to dress your cats and dogs. Cats really love wearing clothes. God Bless.